Posted on March 11th, 2020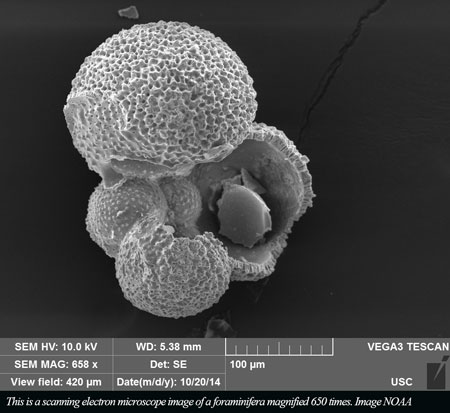 Tiny calcium carbonate shells tell us how fast the ocean is acidifying.
We were alarmed by recent headlines that said, "Waters Off California Acidifying Faster Than Rest of Oceans, Study Shows." We live in coastal California. Acidification is a drop in the ocean's pH that occurs when excess carbon dioxide in the atmosphere dissolves in seawater. The study featured in the news article examined the fossil shells of foraminifera, a simple-shelled planktonic organism that uses calcium carbonate to build its shells. Researchers found a 20% reduction in calcification in the shells of foraminifera in the last century. Shell-building marine animals need the carbonate ions from the ocean and they're becoming scarcer with a more acid ocean.