Posted on August 26th, 2019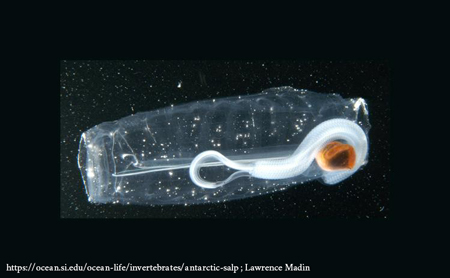 Although it looks like a jellyfish, the gelatinous creature in this photo is a relative of ours: it's a Chordate called a salp. Salps are pelagic sea squirts – tunicates. What makes these invertebrates Chordates? In our video on Chordates we show how we're related to these ancient Chordates.
Salps are transparent, barrel-shaped animals that contract their bodies to move by jet propulsion. They feed by straining water through their internal feeding filters, trapping phytoplankton. They may not be familiar animals, but salps live in equatorial, temperate and cold seas; they are most abundant in the Southern Ocean.