Posted on January 27th, 2018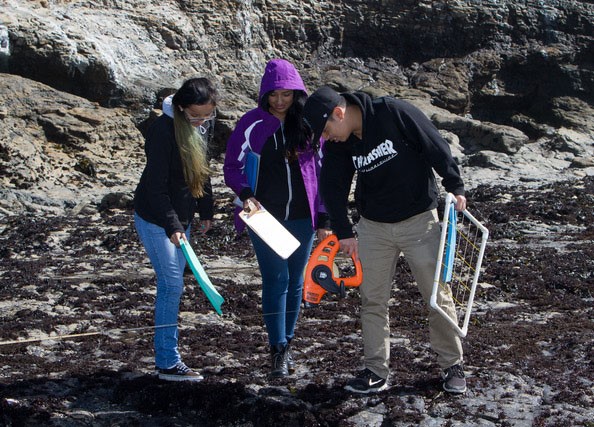 When the tide is very low along the California coast you will sometimes find students on their knees intently getting up close and personal with anemones, urchins and crabs living in the tidepools. This isn't an ordinary field trip. These students are collecting critical data—essential information that informs the understanding and the longitudinal changes to our ecosystems. Their work helps both scientists and elected officials make more informed decisions about coastal habitats along the CA coast.
The Resounding Impact of Experiential Learning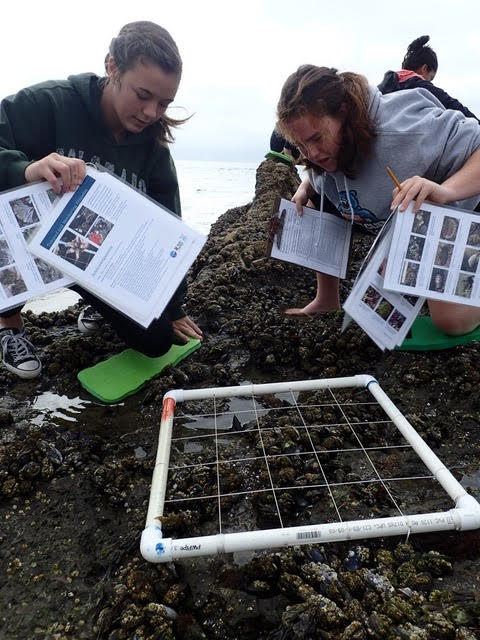 In our backyard, we have an extraordinary program that provides students with 'hands on' learning—while providing important data for the understanding and preservation of our coastal ecosystems. The LiMPETS program (Long Term Monitoring Program and Experiential Learning) "is a citizen science program that monitors the coastal ecosystems of California and helps youth develop a scientific understanding of the ocean. LiMPETS monitors the biology in rocky intertidal and sandy beach ecosystems and aims to provide publicly accessible, scientifically sound, long-term data to inform marine resource management and the scientific community." The program is a collaborative effort among the California National Marine Sanctuaries.
LiMPETS for Middle School Students
LiMPETS program for middle school students monitors sandy beach sites. Following a specific protocol with standardize data collecting, the students record the abundance of Pacific Mole Crabs. First, they make transects from high to low tide on the beach. Taking a core sample of sand, they record the number of crabs per meter/ square. Then they measure and identify the sex of the crabs and return them to the sand. This activity is an important lesson about the food web because Mole crabs are prey species for many fishes, sea birds and shorebirds. These kids are very excited to be on the beach and for many, it's their first time interacting with the ocean. At the same time, they are contributing important information to the scientific community. For example, when an oil spill in SF bay occurred in 2007, the sand crab data collected just outside the bay became instantly relevant.
LiMPETS for High School Students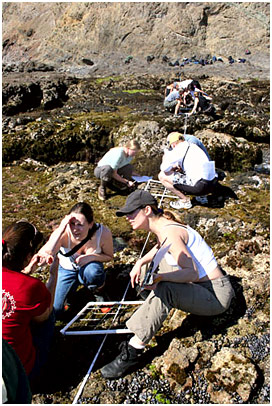 High school LiMPET students monitor the rocky Intertidal, a more complex ecosystem with many species. The monitoring program meets elaborate high school science standards.
Students lay a line from high to low tide across the rocks following pre-placed bolts. They then place quadrats (a plastic square that provides a standard unit of area for study) at regular intervals along that line. They identify what's in each quadrat: algae and specific invertebrates by taxa only (the group, not to the species level). They also measure the size of owl limpets and some sea star species. Often by only the second quadrat, students are able to distinguish the animal groups.
Back in the classroom their data are added to a long-term database (40 years is the longest), critical for understanding the effect of future change on coastal ecosystems. In fact two LiMPETS partners have even been awarded funding for their efforts. Students and LiMPETS staff have been collecting new data and analyzing historic data within Marine Protected Areas.
A Sense of Something BIGGER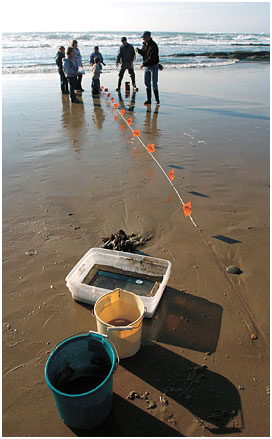 Teachers report that students take better data when they know it will be used for something beyond the scope of their classroom. This sense of contribution has lasting effects which is evident in students' work on classroom-only assignments.
Beyond the classroom, a recent class accompanied a visiting local assemblyman and former Coastal Commissioner —students gave him information that helped him draw mental connections between coastal activities and his role in future policy decisions.
While the 'jury is still out' on just how much impact LiMPET students' data gathering experiences may have in their lifetime; we believe they will forever remember their BIG PICTURE CONNECTION along the slippery low tides in California.