Harmful Algal Blooms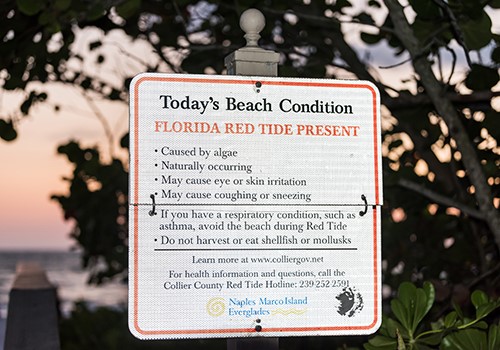 Scientists have shown that rising ocean temperatures caused by human-induced climate change have already driven an intensification of harmful algal blooms (HABs). Harmful algal blooms (HAB) have been in the news for several years now. They occur when nutrient pollution from land reaches the sea or freshwater, fueling runaway growth of algae that can use up all the oxygen. Algal blooms are most often the result of run-off from fertilizer applied to farmlands, or livestock or human wastewater runoff. The blooms can produce toxins that when large enough can kill marine life from tiny to very big.
In the fall of 2018, a red tide of a toxic algal bloom covered much of the west coast of Florida. The algae (Karenia brevis) produce a neurotoxin known to kill fish and other animals. Florida resource managers estimate that about 267 tons of fish, manatees, whale sharks, and dolphins were killed by this bloom. Such intense blooms can cause problems for human health and tourism as well.
On the west coast, Dungeness crab fishermen have suffered economic losses because toxic algae blooms have made the crabs unsafe for human consumption. The crab fishermen are blaming a warming ocean caused by climate change for the algae bloom and the closure of the fishery. They are suing fossil fuel companies for damages on behalf of crab fishers, their businesses and families, and local communities in California and Oregon.