Shape of Life offers classroom media and resources depicting the evolution of the animal kingdom on planet earth. Explore animal adaptation, animations, and behaviors along with the amazing scientists who bring their stories to life. Discover a rich selection of NGSS materials including lesson plans, readings, illustrations and activities that inspire a deeper dive into animal phyla. Shape of Life content is FREE to students and educators all over the world.
I really like how Shape of Life videos are arranged in segments and highlight the evolution of animals.
Home
​It's an Octopuses Garden at Shape of Life!
Featured Scientist
Posted on November 8th, 2022
Dr. Octopus
Louise Allcock acquired the name Dr. Octopus because she studies octopuses. Louise is also known as, Deep Sea Diva. (She loves the name 'diva' as it implies someone who owns their passion). As the two nicknames indicate, Louise wears two hats: cephalopod evolution and ecology, and the deep sea.
Posted on September 22nd, 2022
From Queens to coastal California; how elephant seals drew Ianna to Northern California.
An 8th grade Earth Science class sparked Ianna's interest in science. Then teachers in high school told her about doing research in the Hudson River with the Lamont-Dougherty Earth Observatory of Columbia University where the focus was climate and earth sciences. Ianna jumped in!
Ianna eventually researched data about Arctic ice with Dr. Robert Newton. The following summer Ianna worked as an intern for a grad student at Yale University where her project consisted of using QGIS (Open-source GIS) to map both past and present parks in NYC.
Throughout her education, Ianna's experience shows us that there are many summer opportunities a middle and high school student.
Featured Creature
Posted on November 1st, 2022
The Octopus Garden, as scientists named the site, is located at the base of the Davidson Seamount, in the Monterey Bay National Marine Sanctuary. Scientists have seen thousands of octopuses there— the largest congregation of octopuses discovered to date.
This unique behavior raised a lot of questions for the scientists: why do the female octopuses congregate here?
New Virtual Classroom Resources

Bioluminescence is a spectacular living light show common in the marine environment and especially useful in the deep sea. It provides a way for deep sea animals to communicate and survive in the darkest part of the ocean.
Please explore this rich array of bioluminescence resources our colleague, Rick Reynolds, created for the National Oceanic and Atmospheric Administration (NOAA).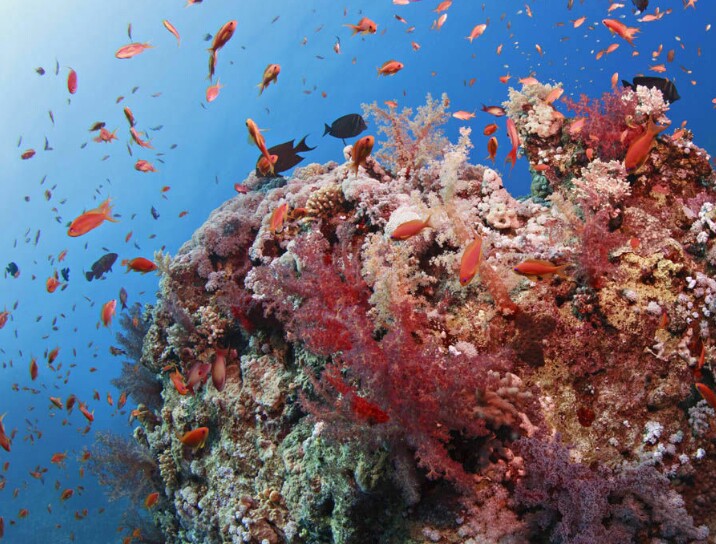 Using this tool, students will practice and deepen their understanding of coral reef basics, what is contributing to their loss, and what is being done to preserve this resource.
Students will use the choice board and the resource list to work through (as independently as possible) short-cycle research, and then create two outcome products based on their choices.
Possible adaptations and extensions can be exercised by guiding the student choices and the level of support given during the process.
Check out Featured Teacher, Sandy Bean's', excellent Lesson Plan prepared for Shape of Life.
In the Classroom
Posted on November 8th, 2022
"I have the honor to return to my community college roots as a tenure-track instructor at Pasadena City College. I am really enjoying the innovative initiatives happening in my department. It's a very full circle moment in my career!"
We're always thrilled to see how many community colleges use Shape of Life resources in their biology classes. That, among many other things, is what makes Kelley so interesting to us. Not only did Kelley develop her love of marine biology at Sacramento City College (SCC), but it's also where she became enamored with octopuses.
Blog
Posted on November 8th, 2022
"Brainy, colorful, fast, sophisticated, strange, inspiring – cephalopods have been on the planet for about 500 million years and have fascinated humans for thousands of year." From "Octopus, Squid & Cuttlefish: A Visual, Scientific Guide To The Oceans' Most Advanced Invertebrates." (p6).
All animals, whether birds that fly, beetles that scurry, or worms living in the ocean depths, interact with the earth's environment. We all live on the same planet with the same soil, water and air. We all require oxygen and water, and we all must eat to obtain organic molecules to build our bodies and stay alive. All animals move at least a part of their bodies through the environment or move the environment through their bodies to obtain oxygen and food; that movement may not be the same for all animals, but we do share commonalities.
News
Posted on November 8th, 2022
Generally the future of the ocean and its inhabitants, due to the climate crisis, doesn't give us reason for optimism. But there seems to be hope for some cephalopod species to thrive.
Posted on September 20th, 2022
Researchers at UC Santa Cruz put sensors on seals that record depth, temperature and salinity while the migrated some 6,000 miles across the North Pacific.
The data collected by the seals brings 'The Blob'—a warm-water heat wave in the Pacific from late 2013-2015—was deeper and much more extensive than previously reported. This deep warming lingered into 2017, well after surface temperatures had returned to normal.
"The elephant seals collect data in different locations than existing oceanographic platforms," explained senior author Christopher Edwards, a professor of ocean sciences at UC Santa Cruz. "This is an underutilized dataset that can inform us about important oceanographic processes, as well as helping biologists understand the ecology of northern elephant seals."