Image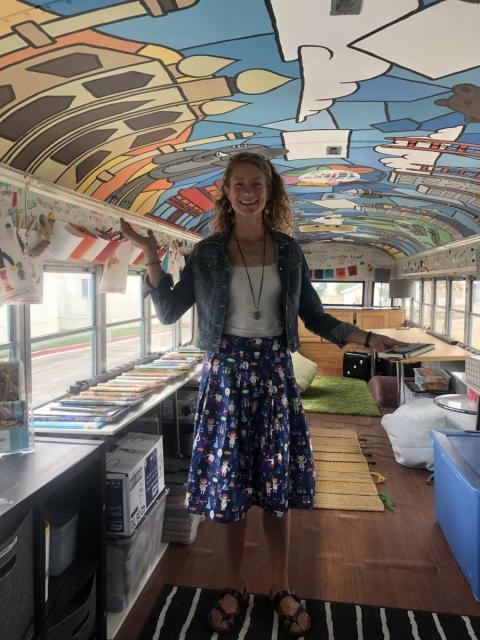 It wasn't hard to miss Holly Lammert at the recent NSTA Regional Conference in Salt Lake City-  she drove her Wonderment Bus onto the show floor!
Discover how this boldly creative teacher makes magic in a converted school bus delivering STEM lessons to eager kids along the road. "My mission is to inspire kids to collaboratively create solutions to real world problems."
Holly is a transformative educator. "I started teaching with Teach for America, and gained an understanding of the complex challenges facing our most vulnerable and underserved communities. It became apparent to me that every child is deserving of quality education rooted in relevance to each student's unique world-view. I challenge kids to see diverse perspectives, while developing empathy and respect."
Transformative education doesn't just focus on teaching lessons that expand a students' world-view—it also inspires students to create life-long actions to help solve problems.
Nature as the Road Map
"I have always been fascinated by the diversity of life on our planet. Growing up in the Midwest, birds, trees and prairie grasses grabbed my attention. In spring, my family would volunteer and sit in a swamp counting Sandhill Cranes as we monitored their progression back to stable numbers. My dad nurtured this appreciation of nature in me from a young age. At Girl Scout Camp, I heard Joni Mitchells's song "Big Yellow Taxi" for the first time and felt a strong pull to protecting our planet."
Off Road Rambling

Image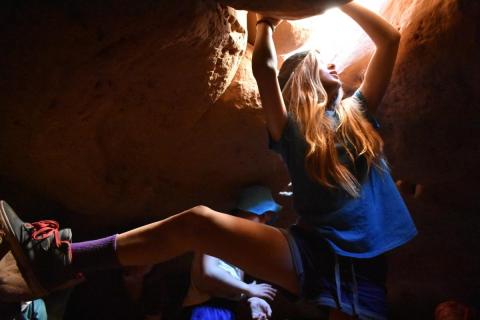 Holly likes to get kids out of the four walls that constrict their imagination and relationship to the natural world.
Each year Holly takes a van full of kids to spend a week without cell service in the desert, at a field station owned by the University of Utah, Rio Mesa. "Kids develop community when they stop and put down their phones, learning to appreciate silence and the beauty of one guitar around a fire."
Holly traveled to Thailand, exploring the intertidal zones on the beaches and volunteering in an Elephant Sanctuary. Holly's students toured a Buddhist Monastery, gaining an appreciation for taking life one step at a time, and appreciating the positives in every present moment.   
At the beginning of this year, Holly traveled to Ecuador to spend a week in the jungle, studying the biodiversity of tropical zones, from poison dart frogs, to a rare sighting of the Umbrella Bird. "I learned about the importance and challenge of reforestation. We learned evolution through a trip to the Galapagos and we were able to do a real-life case-study of conservation efforts and the work-around to tourism impact."Bringing the Natural World onto the Bus
When Holly isn't out exploring the world with her students, she's bringing the natural world onto her bus – a giant, hollow hornets nest, (sent from her father), sits on window ledge, feathers, rocks, and small animal skeletons are found through-out Holly's bus —among these treasures kids also find Shape of Life.
"Shape of Life videos do a great job of providing visual understanding of anatomy and physiology concepts for some of the most bizarre and unrelatable organisms. The lesson plans are helpful, fun, and create connections for students. The students look forward to the videos and I know my students get a glimpse into the world of these organisms, even if they can't interact with them." 
EVERYONE is Welcome!
Walking into Holly's world is a welcome respite for kids from every possible corner of the world. "I try to inspire invaluable insights and skills for self-leadership, building resilient communities and healthy relationships while developing service-minded kids," said Holly. 
Holly is excited to use the Wonderment Bus to address the plastic problem. "We need to not only know about the world, but to be able to put our knowledge into actionable change. It is no longer enough just to 'accept' climate change science-- we need to be able to ignite action in our communities and put pressure on lawmakers to make decisions that put our planet first."
What excites us at Shape of Life is expanding our resources to better support teachers, like Holly. We have hope with Holly at the wheel.  
Please visit here to learn more about the Wonderment Bus.
Image