Image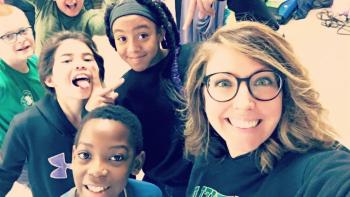 "Science is like playing! It's hands-on and fun. It has the capacity to explore places you've never been, help or heal and lose yourself in the process. My very first mock lesson in teaching school was about states of matter. I used chocolate as my medium," laughs Sandy.
Sandy has been in a classroom as both a gifted student and teacher. She was a little girl who read everything she could get her hands on, "they knew I was bright because I could read at the age of three, was always 'on'-- performing, talking, creating". The whole concept of gifted kids was just gaining momentum in the early 1980's and Sandy placed in a gifted program that recognized her unique way of learning. This experience gave her   insight and an intimate understanding of the students in her organization, The Bean Center.
Isn't Every Kid Gifted?
When asked to differentiate gifted from entitled, Sandy emphatically responded, "can we not put gifted in quotation marks? I promise it's a legit educational term. I know it's loaded, but they've been using it since like 1925." Sandy then referred me to a great article that articulated exactly the issue with gifted labeling: "Parents who grapple with the meaning of giftedness sometimes fan the flames of this debate, particularly when their child is not identified. Some parents view gifted education as a status symbol, a goal that their child must achieve. Why isn't my child gifted? Does that mean others won't think my child is special?" 
Sandy knows firsthand the nuances and advantages of being in a gifted program. When she migrated from a gifted program in grade school to a conventional middle school, "I witnessed firsthand how academic supports fall short for gifted kids. That's why I decided to teach middle school. I was determined to be the teacher that gifted me, artistic me, quirky me, needed."
Image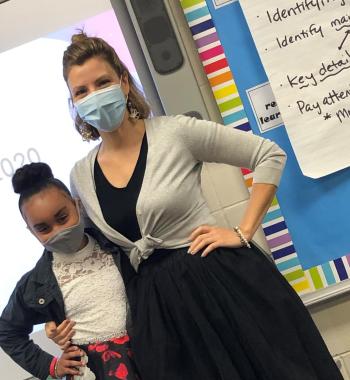 Sandy has a knack for making things relatable and claims that not "taking herself too seriously" is a teaching asset. According to Sandy, "kids are a humbling experience." It's never a dull moment talking with Sandy. Her energy catapults you onto the edge of your seat where you want to play.
"All of my science professors were fascinating and quirky and curious about life; if you want to instill passion in someone, put them around a scientist in their area of interest. They get really jazzed! And so, I thought, how fun would it be to bring this to life for children," said Sandy.
Her Gift is Ours: The Bean Center
"Gifted children have always been my interest. Advocacy and service of gifted learners are my passion. I think it started when I was about eight, because being in those classes I finally felt connected," said Sandy.
It's Not a Privilege Thing
Gifted brains are different. They have actual structural differences. "And, because 'gifted' aptitudes tend to translate to good grades when children are younger, gifted kids are often invisible," said Sandy. Gifted students have a different view of world that at times can be alienating. And, what kid doesn't want to be like everyone else?
Sandy says that every child should have appropriate experiences; "It's no different than giving the tall, graceful kid a basketball, or the child with perfect pitch music lessons, or the one who can draw, professional art lessons. Everyone should have an appropriate experience. Because if they don't, we begin to see problems. It can be a lot of things-- perfectionism, anxiety, underachievement, imposter syndrome, negative self-concept...at worst, even depression, peer alienation," explains Sandy. "I decided to focus my energy on a niche that can help prevent this kind of kid from slipping through or getting lost."
Image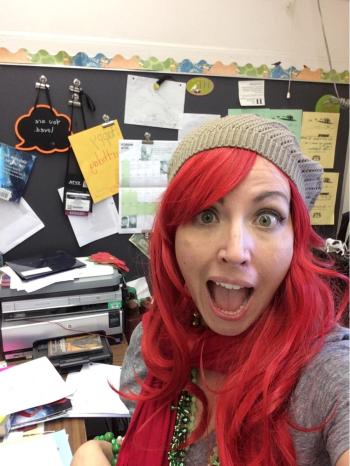 The Big World of Science
"Science is key for our kids because it is so fascinating and endlessly deep and wide in perspective. It is a process that forces reading, writing, and yes, mistakes. Like the science process, we embrace mistakes at our center. We view them as an indication of heightened engagement while also building a sense of trust in process. Science is a process that strives to understand the world and a sense of place."
The Need for High Quality Teaching Tools
Sandy recognizes that being a teacher is difficult, especially now. "There are a ton of paid resources, but to find a free online wellspring of goodness is rare these days. Gifted students are a tough audience. They know when something is irrelevant, or dull. Highly visual resources, like Shape of Life, are a 'go-to' resource for me."
Sandy thinks science education has definitely expanded beyond dusty textbooks with glossy photos. "There are so many things we must understand and a growing number of problems to solve. I think much of that starts in a science classroom."
Sandy's insight has been invaluable to us in the development of new content and advice on a better way to deliver through our website. Talk about a gift!
Additional Resources relating to Gifted Students:
NAGC's full definition of gifted kids.
Key Considerations in Identifying and Supporting Gifted and Talented Learners.