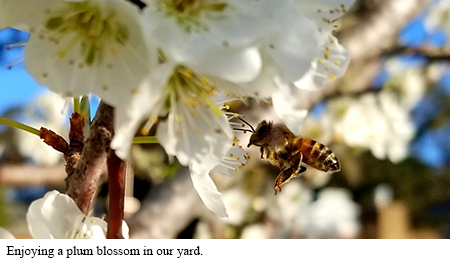 I've been hanging out with my honeybees a lot lately. There are many reasons for this, including:
Hives are swarming like gangbusters in our neighborhood. Due to our magnificent spring season hives have expanded beyond their 'crib' and need more room for new queens, brood and food (pollen). (By the way, don't freak out when you see honeybees swarm).
I've been beekeeping for almost nine years and remain a novice about beekeeping and these incredible creatures. I never tire of watching them. Each of my three hives have their own personality.
Spring is the busiest time of year for beekeepers. It's especially important we keep their hives healthy and safe to sustain a fruitful summer and comfortable fall and winter.
By Denise Ryan